Children's Back pain and Walking Problems
Don't just think it's growing pains, we can help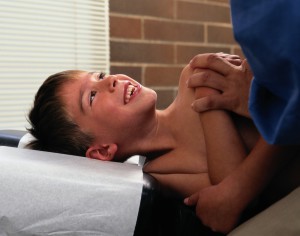 Back pain in children was once a cause for concern, but now it seems it is a quite common condition, from children to teenagers. Many parents are taking their children to see their GP. We at The Back Pain Centers are sometimes are the first port of call, we can diagnose and treat children's back and foot pain and even knee problems. We at the Back Pain Center in Leeds, help to diagnose both child's back and foot pain and also  knee pain problems. We can offer FREE back assessments, which is a joint 15 minute consultation with a  Physiotherapist,Chiropractor and Podiatrist.
This is a quick examination to see if we can help with your child's problem. Fewer than 30% children report back pain. Symptoms are not just growing pains, the child should be looked at from the head to the toes.
Older children can be known to have back strain, due to sports, disc problems, spondylolysis and sometimes a child may present with scoliosis of the spine or systemic disease.
During a Podiatry appointment the Podiatrist will look at a child's gait and see how they walk. Some children are known to walk on their toes, which can cause stress on other muscles. The Podiatrist may  also look at the flexibility and do neurological examinations. He may also look for scoliosis or wasting of the bones. Mr Stanley will also take an evaluation of the pain and take a good history of the day-to-day activities. If they feel necessary they will book an X-ray, ultrasound etc.. The Podiatrist would then either treat themselves, depending on the condition or refer in-house to his fellow colleagues who would either be Physiotherapist/Chiropractor or an Orthopaedic Surgeon.
We have the added service of working with an ultrasound department, run by a Consultant radiologists.
Scoliosis screening is available with our Chiropractor.