Physiotherapy for Children and Adolescents
August 11th, 2016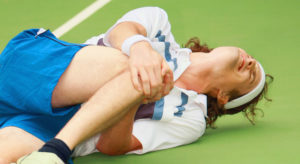 At this time of year we find many worried parents contact The Leeds Back Pain Centre with concerns about their children, or teenagers who are suffering back pain or leg pain or have picked up knee injuries. And the over-riding cause of these concerns? Increased activity in the spring summer months.
The potential for injury in contact sports such as rugby or football is obvious. Yet even riding a bike or playing racket sports can cause unexpected strains and pain.
Little Sam came into the clinic complaining with back pain and pain in the back of his calves. Sam's parents felt that his pain was aggravated by his football. Jonathan Stanley undertook a thorough examination, and although this young man presented only after he played sports, he already had a rotation in his pelvis which was causing the pain he was experiencing. After a short course of treatment of physiotherapy at the Leeds Back Pain Centre to loosen his muscles, Mr. Stanley had Orthotics made for his specific problem. Sam is now pain free.
Previous post: Cycling Week
Next post: Chronic Pain Management – by Dr.Tomer Gilboa