Knee Pain and Osteoarthritis
Overcoming problems from Injury and Wear and Tear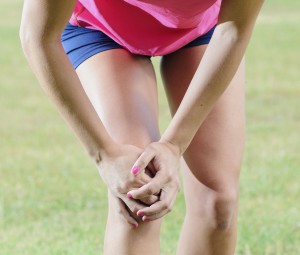 Osteoarthritis is a degenerative condition, commonly known as a wear and tear condition typically affecting those over 40. It produces a pattern of stiff knees with obvious swelling of the knee area and pain.
Osteoarthritis develops gradually as a result of overuse of the joints. Sometimes people complain of clicking when they walk upstairs. Trauma from an early age of an individual's life is thought to predispose them to earlier degeneration within that joint.
Ligament injuries  which may have been occurring  during sporting activities or falling on the knee can cause Osteoarthritis. People that participate in sports can show earlier joint changes on an MRI scan than the uninjured side due to the altered joint mechanics and stresses that are produced within the knee-joint following such an injury.
Our services include rehabilitation after surgery of the Knee. Coming to our clinic will help you on the road to recovery,we will inform you of any exercises you will need to do,to help aid you back to full health.
What Can Help?
A well-balanced diet, cod liver oil. A Physiotherapist, Chiropractor or Podiatrist can help the condition, they may suggest glucosamine and or exercises to strengthen the knee. If in doubt they will arrange with the patients GP to have an MRI SCAN
Strengthening the muscles around the joint (the quadriceps and hamstrings), has been proven to provide increased support to the joint and can be helped by a Physiotherapist thereby reducing any associated joint pain and improving its function, and prolonging the 'life' of the knee.
Our physiotherapist Rob Jackson who has a special interest in knee conditions, deals with many types of knee injuries and can issue a progressive strengthening programme for the knee,  and works specifically  on rehabilitation which is specific to an individuals aims.