Sports Massage in Leeds
SPORTS MASSAGE AT THE LEEDS BACK PAIN CENTRE
Book an appointment with our sports and remedial massage practitioner SARAH SPEARING  Massage can help with all aches and pains and is suitable for sports enthusiasts OR someone wanting a therapeuatic massage to ease their tensions . Manual therapy can help with reducing scar tissue and increasing flexibilityand improve circulation.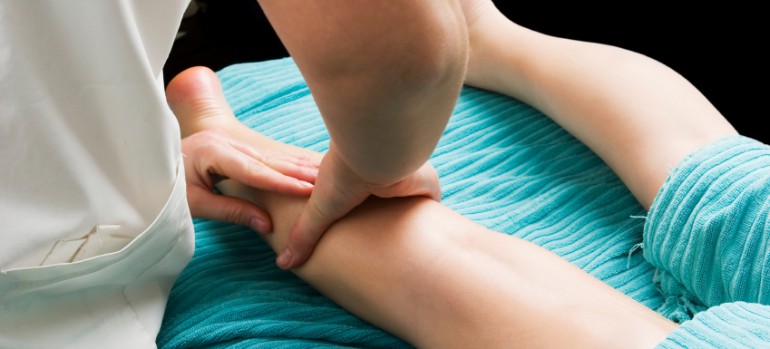 The Leeds Back Pain Centres offers  sports related massage and remedial massage,  therapeutic massage treatments for aching muscles, leg aches and pains, headaches, or if you just want to relax and unwind  due to stress or tension or both.
Massage has been known to help people with stressful jobs, by reducing stress levels due to the therapeutic effects of massage.
If you are either a professional runner or just running as a hobby, it is important to have sports massage, it is important  to help look after your body whilst you are running, or in a sport or dance activity we can help you ease any mild injuries that occur while running. GIFT VOUCHERS ARE AVAILABLE FOR YOUR LOVED ONES. Mental pschological relaxation can be helped with therapeutic touch,nothing can be better than getting a massage for a gift voucher for a loved one.
If you suffer from the following:
Sore muscles
Muscle tightness
Calf pain
Headaches/stress tension
Aching muscles
Rehabilitation and maintenance after physiotherapy service
Shoulder aches and pains
sports injuries
repetitive injuries
stress
lymphatic problems
We can help you get yourself back on your feet.
Testimonials
As I have scoliosis (curvature of the spine) I tend to suffer quite a lot with aches in my shoulders and the centre of my back. l've been going to Sarah regularly for about 3 years now as she really understands what I need and her deep tissue massage treatment really relaxes all of the muscles in my back. I highly recommend booking her to help you if you have a similar problem.





Emily R
Sarah – I just wanted to take a moment to say how much I appreciate the work you have done for me over last few weeks. I was finding it difficult to bend down and impossible to turn my head to the right. My posture was bad and I was heading into retirement looking like a question mark with round shoulders.
But now thankfully things have improved dramatically. So I would like to say a big thank you for all your hard work. I would recommend anyone to book a appointment to see you. After each full session I felt fantastic.





Alan T
Thank you Sarah for my fantastic treatment and my apologise for turning the room blue 🙂 lovely lady & one happy client.





Bobby Deane
I've never felt pain like it but also never had such a transformation from having such a bad back that I was barely able to walk to being able to face a 3 hour flight on a cramped plane. Couldn't recommend more highly.





Rick Goodwin
I've been going to Sarah for the best part of a year now and she has helped me to be able to move more freely again. Contrary to some other reviewers I love the pain! Sarah gets into tight muscles brilliantly and I always leave in much better shape. I highly recommend!





Lenna Rose Bellydance
1 hour of absolute agony. Sarah's looks are deceiving, I thought this won't be too bad I'm pretty convinced you're a grand master. Not experienced pain like it. The marathons in comparison were a breeze. On the long road to recovery.Thank you.





Idris Mansoor
Sarah did a fantastic job of releasing all sorts of tension in my back and hamstrings! My body felt great and energised after treatment, back for some more very soon! 🙂 Thanks!





Ben Sanjurgo