Running Injuries
May 31st, 2016
Plantar Fasciitis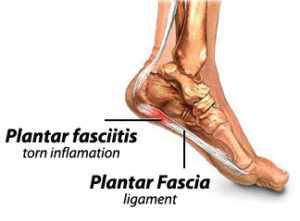 One of the most common problems we encounter with sports enthusiasts – especially runners – is heel pain or pain on the underside of the foot. This is often a symptom of Plantar Fasciitis. This is a painful condition caused by the overstretching of the plantar fascia – the band of tissue that connects your heel bone to your toes – that helps support the inner arch of the foot.
The majority of people will be seen by a Podiatrist. During a consultation the podiatrist will assess the foot and may observe running or walking on our treadmill as part of the assessment. This can help with diagnosing the problems the patient is having. Our highly experienced team of Podiatrists and Physiotherapists are aware that the majority of people that are suffering with Plantar Fasciitis have an underlying biomechanical fault within the foot. Treatment is often helped by steroid injection and/or by wearing orthotic insoles. A regular sports massage and strengthening exercises – which can be advised by one of our physiotherapists – are other ways to aid recovery and prevent a recurrence of the injury.
Quick diagnosis and treatment of Plantar Fasciitis can be important in ensuring a quick recovery. If you believe you may be showing symptoms of this painful condition, book an appointment for a proper diagnosis and help to get you back to doing the sport or exercise you love.
Previous post: Backcare for Gardeners
Next post: Cycling Week